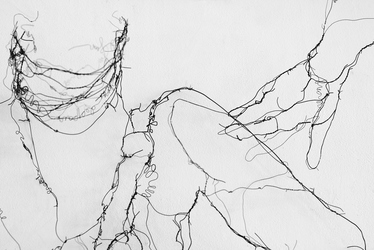 P R E S S

"The Body Sculptor, Naomi Grossman is focused on the female form." By Jessica Lyons LIC Courier Magazine, January 2009
LIC Courier Magazine 1/1/10
"Some of Queens' most memorable exhibits in 2009 were found off the beaten track....Queens College housed several striking art exhibits this year...an exhibit of works by an L.I.C. artist [Naomi Grossman] who sculpts female bodies out of wire, interlaced with words of longing." Queens Most Memorable Works of 2009, by Willow Belden
Queens Chronical 12/31/09
"Two life-sized wire figures sit at the entrance to the Queens College Art Center, their graceful bodies slightly hunched as if in melancholy thought. Perched atop white pedestals, they are lifelike yet abstract; with delicate curves and evocative features but also a free-form fluidity that more realistic sculptural renderings often lack." Bodies of Wire, Words of Desire, by Willow Belden
Queens Chronicle 11/12/09
"Grossman's work is accomplished and intriguing, full of surprise." State helps artists craft a biz model, by Ambrose Clancy
Long Island Business News 3/28/08
"The winner of the Best in Show award [at the 39th Juried Exhibit at The Parrish Art Museum in Southampton, NY] works wire into implied and literal shapes that incorporate language....The coils of the furniture imply that it is the frame or core of the pieces that is exposed. The body and the furniture have been stripped of their skin and fabric to reveal a more essential message."
Southampton Press 10/1/07
"Naomi Grossman's wired configurations, voted Best of Show [at the Thirty-Ninth Juried Exhibition at the Parrish Museum]...the connotation that the words suggested: an aging relative's whispered thoughts entrapped in both a lonely place and state-of-mind."
Dan's Papers 10/7/05
"'Breastplate for the Preservation of the Self', a wire wall piece by Naomi Grossman [at the 49th Exhibition of Long Island Artists at the Heckscher Museum of Art], weaves a delicate web of words into a protective mesh that both shields and reveals the imaginary wearer."
The New York Times 5/30/04
"Ms. Grossman's wire constructions [at the Omni Gallery's show, Inner Self] might be described literally as body language. Woven into the shapes of figures and domestic objects, they comprise words and phrases that express unspoken thoughts and feelings. They symbolize neural networks transmitting a barrage of data aimed at communicating fundamental needs for love, comfort, attention--that resonate even when all externals have been stripped away."
The New York Times 2/4/04
"The words and images as well as the casts [from Reminiscences: Shreds of Memory at the Project Room of the East End Arts Council] are arranged around the room and excerpts from the audiotapes provide a compelling sound tract for this intimate history lesson. This project affirms the value of listening to and learning from, one's ancestors."
The New York Times 1/18/04
"...Grossman's sculpted works in wire...[at the ALLI Invitational Inaugural Exhibit] invite the viewer into a woman's heart."
Art League of Long Island News 10/1/03
"The top award [at the Heckscher Museum of Art] went to Naomi Grossman's 'Psalm', a construction that weaves the words of a Biblical verse into a chicken-wire framework that forms an ephemeral torso, its head an empty shell. The prayer carried by the filaments has nowhere to go....Ms. Grossman's piece has...[an] eerie feeling of electrical energy frozen in space."
The New York Times 6/15/03
"Touching, warm and compelling, the stories [from Reminiscences: Shreds of Memory] are anything but ordinary and gave much credence to our oft ignored and disrespected elderly population... Not just another award show, ... 'Curator's Choice' provides an excellent look at the new work of three serious female artists..." Curator's Choice Features Three Women, Three Visions
Reading Eagle, Reading PA 3/13/03